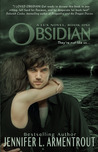 Obsidian (Lux, #1)

Pages: 335
by Jennifer L. Armentrout
Narrator: Justine Eyre
Series: Lux Series,
Published by Entangled Teen on May 8th 2012


Find the Author:
Website
,
Blog
,
Twitter
,
Facebook
,
Goodreads
,
Amazon
,
Instagram
Length:
9 HRS 32 MINS
Goodreads
Buy on Amazon
|
Buy on Barnes and Noble
|
Buy on Audible
Genres:
Love & Romance
,
Science Fiction
,
Young Adult
Starting over sucks.
When we moved to West Virginia right before my senior year, I'd pretty much resigned myself to thick accents, dodgy internet access, and a whole lot of boring… until I spotted my hot neighbor, with his looming height and eerie green eyes. Things were looking up.
And then he opened his mouth.
Daemon is infuriating. Arrogant. Stab-worthy. We do not get along. At all. But when a stranger attacks me and Daemon literally freezes time with a wave of his hand, well, something… unexpected happens.
The hot alien living next door marks me.
You heard me. Alien. Turns out Daemon and his sister have a galaxy of enemies wanting to steal their abilities, and Daemon's touch has me lit up like the Vegas Strip. The only way I'm getting out of this alive is by sticking close to Daemon until my alien mojo fades.
If I don't kill him first, that is.
Review:
Let me start with, if a book series should ever deserve Hollywood's attention, then the Lux series by Jennifer L. Armentrout should be it! I mean the entire series *serious face*.
First, I just want to say that I don't like comparing books or trashing authors. Doing that is like saying I don't like you for the way you walk, and you should strut more like Travolta. See, it's just not fair when I put it that way, is it? Authors and books are all different, and I love them just for making the effort. Where's the last novel you composed, huh? I'd love to read it 🙂 .
I'm only saying that because I've read a few reviews that compared this series to another more famous one. Personally, yea they might be grouped together in the same genre, but the same way you'd mix peas and carrots. Get what I'm sayin'?
Armentrout has created a compelling and exciting story of aliens and secret government agencies, and ya know what? It's pretty darn good! I've eaten up the entire series and can honestly say that I'd want seconds. Ya hear me, Jenny? I want more!
Starting out with Obsidian, we're introduced to Katy Swartz, a West Virginian transplant, and Daemon Black, an Earthian transplant. She hates him, and he hates her, as it should be when they first meet. But Daemon's sister, Dee, makes besties with Katy and Katy can't help but have deep feelings for Dee's brother, right?
Well, Obsidian has all the drama teen love usually has, but with a special government division watching over them. See, Daemon, Dee, and all their friends are aliens and gorgeous aliens at that.
I would say that the entire series is worth reading. Especially if you like your YA mixed with a little alien romance.
The Rating Breakdown
Plot
Characters
Writing
Pacing
Cover
Overall: