This book is an ARC & was received for free in exchange for an honest review. All opinions are 100% my own.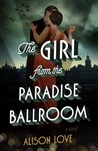 The Girl from the Paradise Ballroom: A Novel

Pages: 336
by Alison Love
Published by Broadway Books on April 19th 2016


Find the Author:
Twitter
,
Amazon
Goodreads
Buy on Amazon
|
Buy on Barnes and Noble
|
Buy on Book Depository
Genres:
World War II
,
Literature & Fiction
,
Historical Fiction
,
Romance
The first meeting between Antonio and Olivia at the Paradise Ballroom is brief, but electric.
Years later, on the dawn of World War II, when struggling Italian singer Antonio meets the wife of his wealthy new patron, he recognizes her instantly: it is Olivia, the captivating dance hostess he once encountered in the seedy Paradise Ballroom. Olivia fears Antonio will betray the secrets of her past, but little by little they are drawn together, outsiders in a glittering world to which they do not belong. At last, with conflict looming across Europe, the attraction between them becomes impossible to resist--but when Italy declares war on England, the impact threatens to separate them forever.
The Girl from the Paradise Ballroom is a story of forbidden love and family loyalties amid the most devastating war in human history.
Book Review
My first love is historical fiction, so getting an ARC of The Girl from the Paradise Ballroom, by Alison Love was cool.
I loved the premise of this book, but I had a hard time getting emotionally involved with the characters. Maybe it's just me because there are some great reviews out there for this story, so just take my opinion with a grain of salt and then go read it for yourself.
The story stars Antonio and Olivia, two star-crossed lovers of sorts, that chance a meeting at the Paradise Ballroom. Things aren't simple in love (he's married with a baby on the way & she just had an abortion), though, so the two go on with their lives.
Now, a lot happens in this story. It takes places over a long stretch of time, and that means there are a lot of players being introduced and POV's to follow. But because I didn't connect with any of the characters, I just didn't care.
I respect the authors time in researching World War II, and I found the historical parts very interesting. Love writes about what Italians underwent during the war and what life was like being ruled by Mussolini. So, those portions were interesting to read.
It hurts to write this review because I wanted to love the book, instead, I found myself bored and disassociated with the characters, and in turn, the story.
In short
I can't pinpoint what would have changed my mind about The Girl from the Paradise Ballroom. I love the era and historical fiction, so the only thing I can put it down to is preference. It wasn't the story, per say, but more so the characters in my opinion. I didn't like them, so their story meant nada to me.
Have you read this book? I'd love to hear what you thought of it, especially if you think I'm wrong!
Take care & be kind☆彡
The Rating Breakdown
Plot
Characters
Writing
Pacing
Cover
Overall: