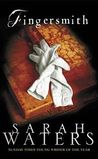 Fingersmith

Pages: 582
by Sarah Waters
Narrator: Juanita McMahon
Published by Riverhead Books on October 1st 2002


Length:
23 HRS 40 MINS
Goodreads
Buy on Amazon
|
Buy on Barnes and Noble
|
Buy on Audible
Genres:
Fiction
,
General
,
Historical
,
Lesbian
,
Thrillers
No one and nothing is as it seems in this Dickensian novel of thrills and reversals. Sue Trinder is an orphan, left as an infant in the care of Mrs. Sucksby, a "baby farmer." Mrs. Sucksby's household also hosts a transient family of petty thieves--fingersmiths--for whom this house in the heart of a mean London slum is home.
One day, the most beloved thief of all arrives--Gentleman, an elegant con man, who carries with him an enticing proposition for Sue: If she wins a position as the maid to Maud Lilly, a naïve gentlewoman, and aids Gentleman in her seduction, they all will share in Maud's vast inheritance.
With dreams of paying back the kindness of her adopted family, Sue agrees to the plan. Once in, however, Sue begins to regret her decision.
Review:
I was looking for a new historical fiction novel to read. But since I'm having a love affair with Audible right now, I chose to listen to the novel.
I like a good audio of a book sometimes because a good narrator can make me feel or see the plot and characters entirely different from when I read. It's a nice change once in awhile. On the other hand, having the book in my greedy little hands can never be replaced by my Kindle or Audible account!
That said, I'll move on to Fingersmith!
In a nutshell, this story starts with a group of shady people from the underbelly of London. They're a group of pickpockets and swindlers, but what they are at their essence are people trying to make it through life day by day with the cards they were dealt.
Sue, an orphan and "fingersmith," is sent to the English countryside to be a personal maid to Maud. Now, this isn't a coming up story where Sue is trying to better herself, nor raise herself up from the gutters by working in a reputable house. Instead, Sue is sent by a moralless man, who goes by the name of Gentleman, with a plan to get Maud to fall in love with him. Sue is to persuade Maud to love and marry Gentleman, and then have her committed to an insane asylum for women so that he can defraud her out of her inheritance.
Through the first part of the book I was getting to know some history of the characters, the feel of the grittiness of their lives, and to know them.
At least, that's what I thought!
This novel throws a big curveball that had me gaping in the car while I listened. Just when I thought I knew these people and what would happen next, poof, I was stunned and surprised and angry and even a little confused. Had I gotten the entire story wrong? But then, another twist and my focus became so clear that tears were in my eyes.
Fingersmith had me all twisted up. Twisted with emotions, morals, family, and love. Sarah Waters will show you the love where you would have least expected! It's a wonderful feeling! I can't wait to get my hands on another Sarah Walters novel.
P.S. I didn't realize until after finishing this book that it has already been made into a mini-series. I haven't seen it yet, but will see it soon. I found the DVD on Amazon, but also on Youtube.
Have you read the book or seen the mini-series? I'm just dying to hear other people's opinions!