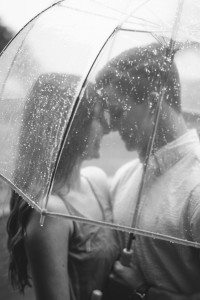 I just want a cute guy to hold an umbrella (preferably over my head) while El Nino takes over this spring. Is that too much to ask?  *Kidding babes… Kidding! You'll always be my first Valentine 🙂 *
In the spirit of Valentine's Day, I thought re-opening this lovely little site on a hot sweet note would be fun. Plus, I spend a lot of my time with imaginary people (the fictional type!), so what better way to pay homage to my favorite writers and their creations than choosing which characters make the best couple? Okay, that sounds biased… Well, someone has to win! It is Valentine's Day, people.
Let's begin!
I thought about Katy and Daemon from the Lux series, by Jennifer Armentrout. I love this series! When I found these books, I ended up ignoring everything around me until the last word was read. Retrospectively, that wasn't the smartest thing to do. First, the books were finished too soon, and I was left staring out of my living room windows looking for bolts of random lightening with the sappiest look on my face (I know this because I couldn't stop looking at said sappy reflection in the glass!). Second, I pretty much ignored my family until the last word, on the last page, of the last book. Hmm, probably shouldn't have admitted that one. Eh, you guys get it!
I considered Elizabeth and Mr. Darcy because hello! Pride and Prejudice, by Jane Austen, stands strong as one of my all-time favorite reads. Ever since I was a little girl (okay, I was in junior high, so not so little) and laid dramatically across the doorway of the house I grew up in so my neighbors could see just how mature and smart I was reading a classic, I've been in love with love, and it's all thanks to Elizabeth and Mr. Darcy.
Then, I got to thinking, maybe something more modern like Shaw and Rule in the book Rule from the Marked Men series, by Jay Crownover would be better.  Their love is so hoooottt! With the dyed hair, tattoos, and attitude they're imaginary lives reflected a lot of my younger days (maybe a few from my today days too – my husband is a tattoo artist, and I can't seem to dye the gray completely out), so I had this weird deja vu thing going on, but with less drama, sulky testosterone, and heat. *Sigh* Fiction is always better than reality.
But the cream of crop and my all time favorite fictional couple has got to be Claire and Jamie from the Outlander series, by Diana Gabaldon!!! If I could do an introductory trumpet ditty for you, I totally would. Instead, let's just pretend there's a Scottish bagpipe playing some heart wrenching, soul twisting, super emotional tune just for you 😉
Claire and Jamie Fraser. What can I say? I'm just speechless all of a sudden! Just kidding! Me? I'd talk the jaw off a zombie. Ms. Gabaldon has created a classic with the Outlander series. Of course, this is only my lil ole opinion. Maybe yours too? Starz did pick the story up and created a fabulous series, so maybe I'm not the only superfan of these two lovebirds. But seriously, when Claire and Jamie come together, there's so much depth to their love that you can feel the butterflies in your tum (and not just because Claire is constantly in some sort of trouble, or Jamie's head is usually wanted on a platter). It's a beautiful and real love, and a majestic series (yea, I used a dramatic word, but it is majestic!).
So, happy Valentine's Day Claire and Jamie! I hope wherever, and whenever, you are that your days are full of love and your nights are full of each other *cheers*!
If you haven't checked out the Outlander series on Starz yet, you gotta! Here's a little clip from the upcoming season 2 series, Outlander: