This book is an ARC & was received for free in exchange for an honest review. All opinions are 100% my own.

The Girls

Pages: 355
by Emma Cline
Narrator: Cady McClain
Published by Random House on June 14th 2016


Find the Author:
Website
,
Facebook
,
Goodreads
,
Amazon
Length:
9 HRS 44 MINS
Goodreads
Buy on Amazon
|
Buy on Barnes and Noble
|
Buy on Audible
|
Buy on Book Depository
Genres:
Adult
,
Fiction
,
Historical Fiction
,
Literary
Northern California, during the violent end of the 1960s. At the start of summer, a lonely and thoughtful teenager, Evie Boyd, sees a group of girls in the park, and is immediately caught by their freedom, their careless dress, their dangerous aura of abandon. Soon, Evie is in thrall to Suzanne, a mesmerizing older girl, and is drawn into the circle of a soon-to-be infamous cult and the man who is its charismatic leader. Hidden in the hills, their sprawling ranch is eerie and run down, but to Evie, it is exotic, thrilling, charged—a place where she feels desperate to be accepted. As she spends more time away from her mother and the rhythms of her daily life, and as her obsession with Suzanne intensifies, Evie does not realize she is coming closer and closer to unthinkable violence, and to that moment in a girl's life when everything can go horribly wrong.
Debuting, Emma Cline
Have you met Emma Cline, author of The Girls, yet? Virtually, I mean, and via her humble bios online. We know she's from California *cheering!*, she's had several short stories and essays published, and she was the 2014 recipient of the Paris Review Plimpton Prize. And, #hairgoals.
Other than that, I haven't heard much more about her. Oooh, an elusive and mysterious person author! Between the novel, The Girls, and Emma Cline's preferred privacy, my imagination is all over the place.
The Girls, The Review
Let's talk about the book cover first because some of us, myself included, are drawn to, obsess over, collect, and otherwise find bookjackets interesting. This cover is like a hypnotic spinning wheel. I love the colors and simplicity. I'll give the cover a thumbs up and move on. Check out Bookstagram for more info.
I hope I don't give anything away here, but The Girls has a strong Manson Family vibe. You're familiar with Charles Manson and his group, right? Well, this story's told in that vein. It's the fictionalized story told from Evie's point of view as an adult and memories from 1969 when she only fourteen.
Our main character is Evie, a single woman who is house sitting off the coast of California. She doesn't stand out in any way, and she's fearful that her past will find her. An unexpected visitor to the home forces her to relive her past and delve deep into truths about herself that she had buried a lifetime ago. Once you relive her past with her, you can't help but think that maybe Evie does have something to worry over.
Here's the thing, though, you cannot help but think of every Manson Family documentary, news clip, and urban legend (I live close to their old stomping ground, so the urban legends abound here) that has come your way while reading this book. With that in mind, the weird factor goes up a few levels.
Okay, the Manson creeps aside, this is a story of finding yourself. Some of us know who we are from the first shot, and others, like Evie as a teenager and an adult, are just starting to get glimpses of who we might be.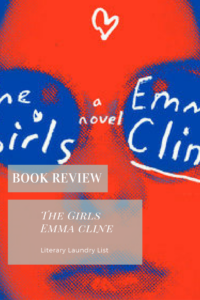 As a teen, Evie's enthralled with a group of what seem to be independent thinking young girls. Eventually, Evie becomes part of the threadwork of that group which is lead by a charismatic guy by the name of Russell. I appreciated that the focus of the book wasn't on Russell and never deviated from the girls.
Evie watches as the group fractures, and what once had a shiny veneer is now crusty and smells of mold. That's my description, not the authors 🙂 . What I mean is, Evie leaves the commune for awhile. When she returns she notices things that once were charming are now dirty and perverse, and individual changes that make her uncomfortable. I liked Evie from the first chapter, and I was rooting for her during these scenes.
In Short
I have to give it to Emma Cline; her debut novel is stellar! The writing is smart and so well thought out that even though Russell isn't there, you feel his presence and influence. I could always hear him through the girl's dialogue. I love the way she describes and shows me what I'm reading. I got absorbed into the story, and that's beautiful writing for you.
The Rating Breakdown
Plot
Characters
Writing
Pacing
Cover
Overall: