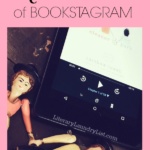 Enter the World of Bookstagram
Yeah, it's a thing. Oh boy, is it a thing! I've used Instagram for years, but on a personal level (ya know, family and friends). I didn't create an account for books until this year, and it's been so much fun 🙂 I've let my inner fauxtographer loose and in turn have met some of the coolest people from around the world.
If you're a book blogger, besides being its own entity, Bookstagram is a cool addition to your blog. It's another way to reach literary lovers while letting your inner photographer free!
Advice for New Bookstagrammers
You wouldn't believe the creative bookstagram accounts out there! It's a lot to live up to, so my advice? My advice is to do you. Don't compete with those ultra accounts; you know the ones with 40K followers and photos that could be mistaken for the covers of magazines. Learn from them, but don't mimic them. It's much more interesting, and better for your self-esteem, to create something new.
Creating an Instagram feed that's original and stands out isn't hard. There's only one of you and believe me, you're enough. If you're going to start photographing your books and using all the knick-knacks in your house as props then each photo you take will be original!
Photography Apps
I have a ton of photography apps on my cell just for the purpose of taking bookish pics. Some I use every day, others I use less often, but they each are great for *booktography.
Some of my favorite phone apps:
Where to Start
First, you'll need to download the Instagram app onto your phone. Then, sign up and choose your book lovin' name. Mine is @literarylaundrylist. After you've set up your bio, start taking photos of your books, bookshelves, bookish swag, etc. There is a slew of filters on Instagram, choose whichever you think best suits the image or none at all.
Make sure to include your HASHTAGS! Hashtags will reach further across the Bookstagram community than you could imagine.
As of today, here ar some hashtags that are popular: #bookstagram, #bibliophile, #booklover, #booknerdigan, #booktography, #igbooks, #yalove, #readersofinstagram, #igreads, #bookish, #reading – and many, many more.
Tip: Checking those (and other) hashtags will introduce you to other people obsessed with books. Follow the accounts that catch your eye, and don't forget to comment. Commenting is important if you want to communicate with other on Bookstagram.
Go and be Creative!
There ya go 🙂 Just a few tips to get you started in the Bookstagram community. If you have questions, please share them below!
Are you on Bookstagram? Share your Instagram name below so we can follow along.
Take care & be kind☆彡