Writer's Block Box from OwlCrate
March has delivered some neato book swag, and OwlCrate has made my month with their Writer's Block themed box! Oh, whisper sweet nothing's to me, OwlCrate!
What's OwlCrate?
OwlCrate is monthly YA subscription box that delivers Young Adult novels and "assorted bookish goodies" right to your home. *raising hand* Yes, please!
This month's OwlCrate was especially cool (to me) because 1) I love book themed goodies, 2) I've hit writer's block in my blogging & writing lives – awesome theme, 3) Books!!, & 4) Who doesn't like getting packages delivered to them? Not me. If I spy a delivery truck on my street, I meet them at the end of my driveway *no shame*.
Open the Box Already
Okay, okay… You're right, enough with the chit chat, get to the good stuff!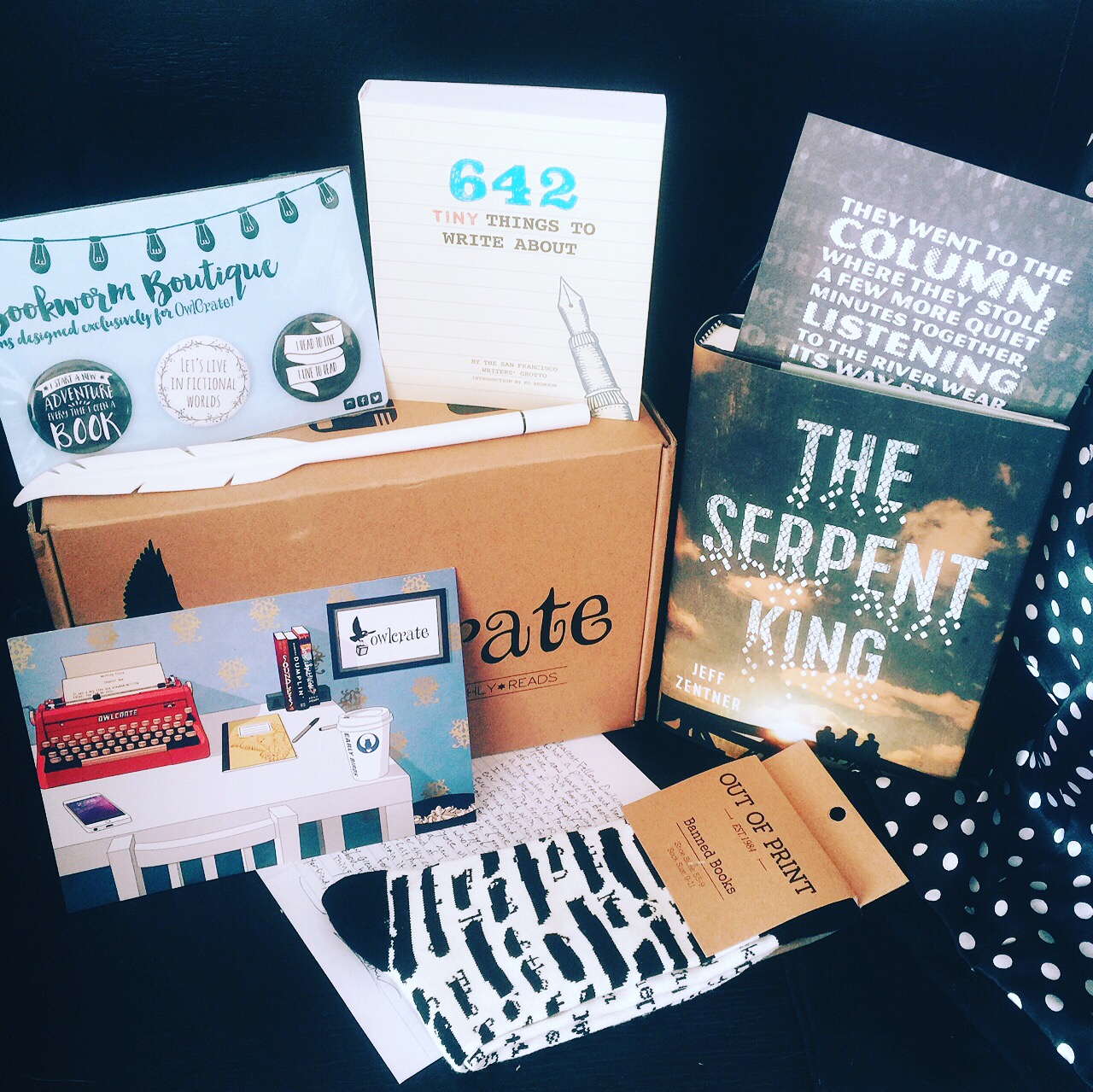 This month's book was The Serpent King, by Jeff Zentner.
Synopsis: Dill has had to wrestle with vipers his whole life—at home, as the only son of a Pentecostal minister who urges him to handle poisonous rattlesnakes, and at school, where he faces down bullies who target him for his father's extreme faith and very public fall from grace.He and his fellow outcast friends must try to make it through their senior year of high school without letting the small-town culture destroy their creative spirits and sense of self. Graduation will lead to new beginnings for Lydia, whose edgy fashion blog is her ticket out of their rural Tennessee town. And Travis is content where he is thanks to his obsession with an epic book series and the fangirl turning his reality into real-life fantasy.Their diverging paths could mean the end of their friendship. But not before Dill confronts his dark legacy to attempt to find a way into the light of a future worth living.
The bookish goodies included: 3 custom made pins from Bookworm Boutique, Banned Books socks (personal fav & on my footies right now) from Out of Print, 642 Tiny Things to Write About a notebook from Chronicle Books, & a "modern quill pen" from Kikkerland. *All displayed in the photo above.
Wrapping Up
In all, I loved the Writer's Block box. Is it worth it? Yuuup! I love the way OwlCrate selects the goodies that go along with each of their themes, and I appreciate the care they put into each box. It's the little things… To learn more about OwlCrate, click here!
So, tell me, are you getting your book cravings satisfied with an OwlCrate delivery?
Take care & be kind☆彡