The Luxe Book Box
This is my first Bubbles and Books Box delivery, so I didn't know what to expect. I let my adventurous side out and ordered two of the three boxes they offer *I know, I'm a wild one*. This post is about the The Luxe Box. The Bad Boy Box should be arriving any day now.
They offer three subscription boxes,  the Bad Boy Box for the romance reader that prefers their book boyfriends edgy, The Luxe Box, which is Paranormal Romance, and the Swept Away Box for Historical Romance lovers.
All boxes come with one "Specially Curated Luxurious Full-Sized Handcrafted Soap," and a bunch of surprise book related treats and swag. You can read more about Bubbles and Books Box here.
Book Box Joy
I received the March Bubbles and Books Box a week ago and waited a good minute to write about it because I wanted to test out some of the goods. I wasn't disappointed!
For starters, the box smelled incredible; I can't even describe how good the scent was before I even opened the box. It wasn't flowery at all, but more sweet mixed with chocolate???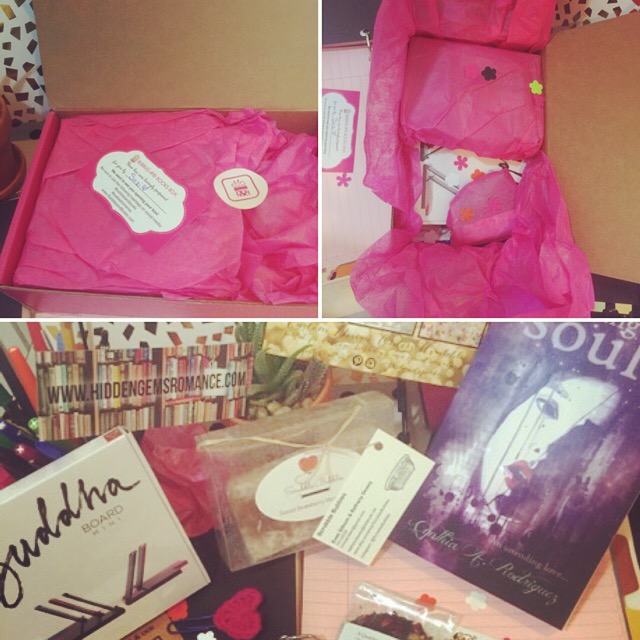 Once opened and unpacked, I found Chocolate Rose Earl Grey tea from A Quarter to Tea! I've decided that I need to order more of this tea and make little potpourri pouches for around the house. And for actual cuppas. 😉
The soap was Sweet Strawberry Heart Loaf from Scrubble Bubbles (At this time, the link to their Etsy shop is unresponsive, but you can email them with questions. I'll keep checking, and when it's back up I'll post an update.). The soap was big, almost half the size of the book. It also smelled delicious, like strawberry champagne *yummo!*.
The book in March's box is Crashing Souls, by Cynthia A. Rodriguez, and I've already added it my currently reading list. Book review coming soon!
From GoodReads: I am darkness; what you would consider a thief amongst the living.
I've spent time, so much of it that it seems a trifle word to call it, in that gloom being swallowed whole by human grief and human tears.
I am the Angel of Death.
And all was dark until I met a man, searching for a woman.Given a second chance to find the love of his life, whose soul was placed inside someone else after a tragic accident, a young man finds himself taking over the life of a teenager named Dexter. But there are rules: She will not remember him and he will only have fragmented memories, not knowing anything about the life he has been placed in and barely anything about the life he once lived. He embarks on a journey to right Dex's wrongs and find the woman whose soul belongs with his, no matter what it takes. Finding her is one thing, loving her and her self-destructive ways is another.
Artful, sharp, and compelling, Crashing Souls explores the permanent mark left behind when two souls crash together.
The rest of the goodies inside included:
The most adorable bookmark, a knitted heart attached to a huge paperclip from On Woodland Road.
A Buddha Board Mini from Buddha Board which "is inspired by the Zen idea of living in the moment." You open the Buddha Board and prop it like an easel, then use water with the paintbrush attached to the board to create designs, quotes, or whatever you choose. It's supposed to promote "a clean slate and a clear mind…" as the water evaporates. I like it; it's sitting on the windowsill of my office.
Finally, the whole thing was covered with just the right amount of designer confetti from Posh and Sparkle.
Wrapping Up
I was more than pleased with March's book box from Bubbles and Books Box. Very, very. I'm excited to see what the Bad Boy Box has to offer. 🙂 This subscription box is easily the kindest on my bank account at $24/box and packed with goodness.
Check out Bubbles and Books Box, I bet you'd be happy with your purchase. If you're already receiving their delicious boxes, let me know below!
Till next time, take care & be kind☆彡